Once a guest reaches their room their first experience of the hospitality industry is usually struggling through flyers and sheets of folder up paper scribbled on to keep up-to-date only to then forget to book anything. It is now even harder to get the right information in front of your guests with new cleaning guidelines and Covid restrictions in place. So how do you increase average room spends without spending a fortune? By giving your guests the key to the castle with Wireless Rooms in-room tablets. During your guests stay they will spend time in their beautiful room thinking what shall I do today? Where shall I go? What shall I eat? Give every guest in every room direct access to book, buy, and learn about everything you have to offer in a single easy-to-use device tailored to your business.
When you give your customers the option to create their own bespoke experience at a tap of a tablet, not only are your patron's going to leave having, quite literally, experienced a stay custom made to their requests. But you are going to send them on their way knowing you have utilised every opportunity available to provide your customers with the best service possible.
Our devices are remote and digital which means hotels in this time of limited contact and necessary distancing can demonstrate to their customers the maximum potential for their stay, in turn increasing average room spend without breaking Covid compliance rules.
Wireless Rooms tablets can promote your hotel's additional services by promoting and upselling via tailored messages, ads, or imagery. Simply by removing barriers of not only covid restrictions but also simplicity of purchase, Wireless Rooms can help.
Looking at a recent study into Consumer spending by the Adeo Group, it was found that consumers spend five times more online than 'in store', this is due to the likelihood of repeat purchases and the psychology of not physically having to reach for your wallet/purse. The same applies to hotel's; imagine having the opportunity to upsell your patrons by 500% simply by shifting your physical offering, to digital.
Remove the unnecessary complexities and layers to your offering by providing them directly to the target audience, in their room, straight into their hands- the simpler the process the more likely the upsell. By removing these barriers you will increase your average spend per room as we have seen not only from case studies that can be found on our website here but also one couple joked upon departure that "We wouldn't have drunk that much if it hadn't been so easy to order form our room!"- Leaving you with an increased spend per head and your guests with something to giggle about on the way home!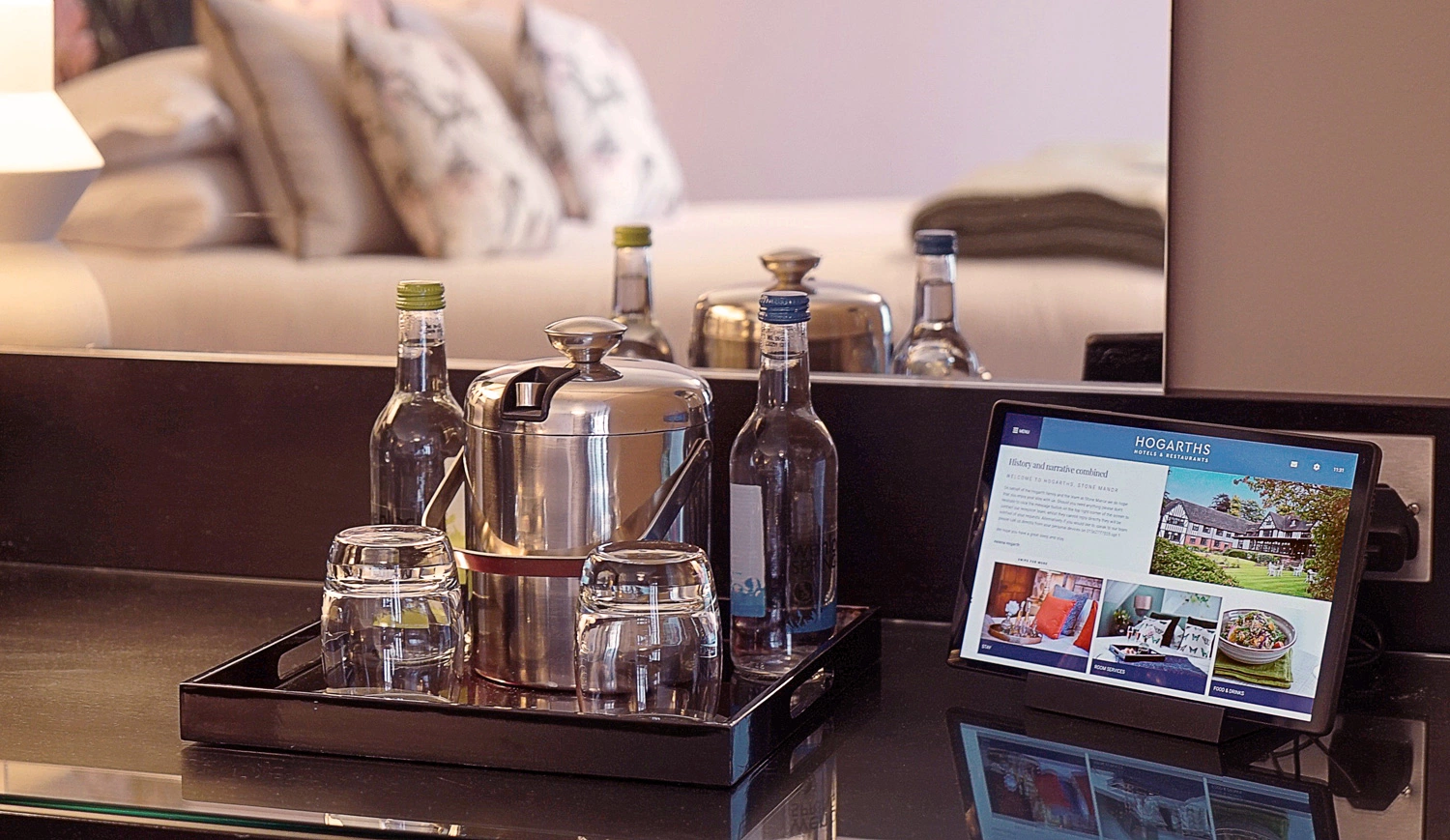 If you are unsure, need clarity or simply just intrigued to find out what your potential upsell value per room could be, by implementing some of the simple steps above, why not use our revenue calculator to assess and unlock your hotel upsell potential.
To find out more or simply have a casual chat regarding the opportunities Wireless Rooms could bring to your business, please do get in touch for a free, no-obligation, demonstration or better yet if you have 45 minutes spare request a demo when you're next free.